Earn money from both inactive and active app users with EarnApp
App developers are able to improve user experience while increasing profitability using Bright Data's EarnApp, a patented SDK to seamlessly transform software applications into passive revenue streams.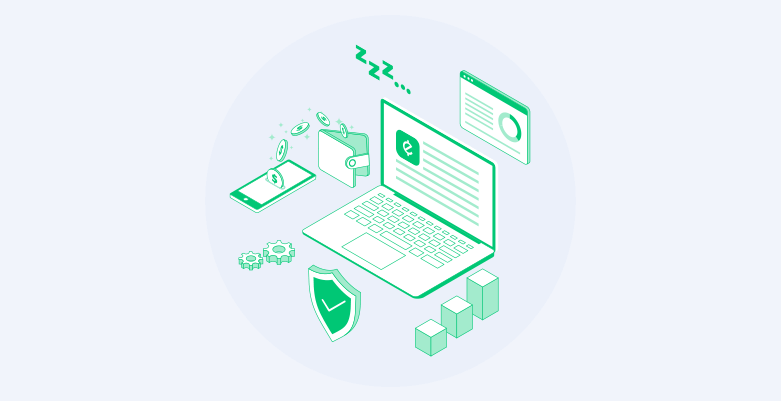 EarnApp For Developers
EarnApp presents developers with a smarter way to monetize their applications and improve their users' experience. The EarnApp SDK provides an option to remove advertisements and certain payment models conventionally used by operators to earn money, and exchange them for a more appealing and non-invasive way to reach the same goal.
Frequent ads and in-app purchases are damaging to the overall user experience in any form of entertainment or software. Users hate watching ads or paying for apps, but developers still need to make money in order to maintain their software, and keep improving their apps.
EarnApp gives the users a choice to determine how their participation is monetized – presenting developers with a unique opportunity to shift the focus on driving further engagement, knowing the safety of a steady revenue stream working in the background.
There are three main ways in which EarnApp SDK partners can benefit from the program:
Ad-free: Developers can add an alternative ad-free version of their software for users who opt-in to EarnApp.
Free feature: App creators can offer EarnApp in exchange for a limited version of the application that unlocks some premium features.
Free version: App developers can offer their app for free to users who opt-in to EarnApp, instead of having them pay for it – leaving upsell options open for the future.
EarnApp compensates the developers based on the monthly active users who opted-in to the program, which could reach up to 20 cents per user per month. Our metrics show that on average around 80% of users presented with the EarnApp SDK end-user license agreement choose to opt-in.
With this monetization method, app creators are able to open up a passive revenue stream that monetizes both active and inactive app users – considering users do not have to be using the app to generate earnings for the vendor.
Once implemented, EarnApp partners tend to see the immediate improvements in overall app experience, with an increase in app usage, better reviews, a 15% increase in user retention, as well as more organic installs.
This criteria allows app developers more time to convert users to paid accounts by providing them with some functionality while keeping the upselling options open down the line. It also gives ad-driven monetization apps a way to provide a better product and interface for their users, and earn money without disrupting the experience.
EarnApp SDK Partnership
EarnApp integrates with most major platforms, including Windows, Mac, and Android apps distributed via the Amazon Appstore and LG WebOS SmartTVs.
When implementing the EarnApp SDK, application vendors decide when to show the EarnApp screen, and if the user decides to opt-in and accept the offer, the developer can then modify the application for that user.
There must also be an easy way for the user to opt-out of the EarnApp program, which could be a section added to the application settings.
Application vendors are paid based on the average number of monthly active user devices that opted-in to EarnApp from their application.
If a user opts-in on one of their devices at the beginning of the month and opts-out at the end, developers still get paid for the days they were online and their usage is averaged in with the rest of the pool.
What Does EarnApp Do?
App users who receive the EarnApp offer are presented with the option to receive an upgraded or ad-free version of a developer's application in exchange for EarnApp's use of their device's unused resources. Users can opt-in as well as opt-out easily at any time – a process which has been tried and tested by over 110.4 million users.
EarnApp uses these unused resources to power Bright Data's extensive network, through which thoroughly vetted companies, including Fortune 500 and small businesses alike, can collect public web data at scale to make better informed decisions.
Using the Bright Data platform, companies can perform operations such as price comparison, website testing as well as other forms of market research and brand protection – helping to keep markets fair and competitive, and deliver smarter products and services to consumers.
Bright Data's network is also used by 400+ academic institutions, nonprofits and NGOs to perform essential research, drive forward social worthy causes and create positive change worldwide. Bright Data supports many of these important projects through its pro-bono organization, The Bright Initiative.
The method is similar to Amazon Sidewalk, a crowd-sourcing network that helps Amazon improve its Echo devices, Ring Security Cams and Tile trackers, by combining the bandwidth and capabilities of the devices of its opted-in users.
In exchange for their participation, Echo, Ring and Tile users can unlock certain features for their devices and support other devices in the community – helping to find lost pets, valuables, improve security and the overall product itself.
The EarnApp Offer
Before a user opts-in they are presented with a clear and transparent short-text end-user license agreement that lays out the terms and conditions in which Bright Data can use their device. This opt-in screen has been tested to ensure both clarity and compliance.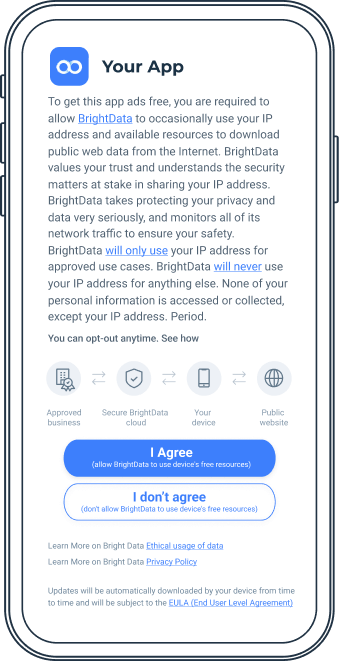 Users who opt-in to EarnApp knowingly give consent to allow Bright Data's thoroughly vetted customers to use their device's available network resources to index no more than a few web pages per day while the device is idle, ensuring that there is absolutely no impact on the device's operation.
Over 100 million users have opted-in to EarnApp, and every year EarnApp pays developers millions of dollars – all helping Bright Data bring transparency back to the internet and preserve a free market.
It should be noted that Bright Data is GDPR compliant and does not collect any end-user or personal data from the user's device, apart from the IP address itself.